Donate out of Solidarity and the Joy of Commitment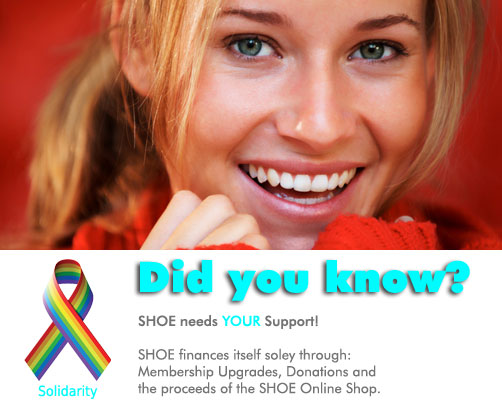 We are here for you - Are you here for us?
To cover our costs and to break-even we
NEED YOUR SUPPORT
. We appreciate your
DONATION
wholeheartedly.
To show our appreciation for your generous gesture you will get this special icon

on your nickpage.

For this we will need you to provide us with your SHOE username. Please enter your username in the requested field. If you prefer to donate anonymously, then simply leave the field "username" blank.
We would like to personally say Thank You to everyone, who have already made a donation.

View Donation List
It's so easy to donate
Donate through Paypal
To donate through Paypal is actually very easy. All you need to do is choose your currency and click on the Paypal button

Donate Cash
It's best to send it by registered mail to make sure it doesn't get lost.
Send it to:
Syzzling GmbH
Attn. SHOOZIES Network
Kreuzmatt 1
CH-6287 Aesch LU
Switzerland
Last Will and Testament
Donations are one of the most noble and respectable things that an individual can do. The ability to really give back to the lesbian community is something that is truly important and also quite rewarding.
Have you ever considered supporting the SHOE Community after One's Lifetime? Whoever would like to support the important work of the SHOE Community after her lifetime can also consider including the non-profit Lesbian Community in her last will and testament. In this way, you ensure that your wealth will be utilized for the lasting and sustainable benefit of lesbian projects.
If you consider this option, you can make it possible via your last will and testament or in the form of a testamentary decree (bequest).
Thank you! Merci! Grazie! Gracias! Arigatō!
We thank you from the bottom of our hearts for your generous donation and for being a part of SHOE