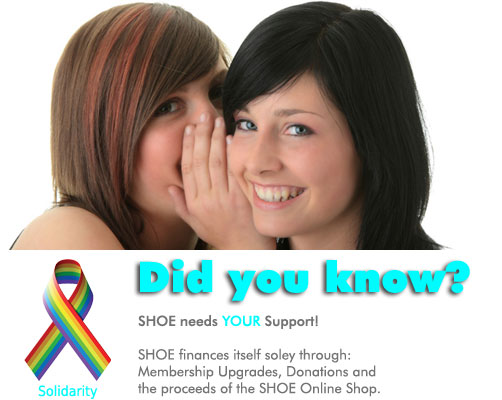 About SHOE
SHOE is a virtual safe haven where Lesbians can meet new friends, network, get information and exchange views & news. The main goal however is to empower lesbians wherever they live and help them come out with easiness through fun and friendship.
SHOE finances itself soley through paid membership upgrades, donations and the proceeds of the SHOE Online Shop.
To keep the costs as low as possible, the SHOE-Team
abstains
from paying themselves a salary.
We are here for you - Are you here for us?
SHOE is a Lesbian Community, a safe place where women not only meet new friends and have lots of fun, but also a safe place, where we are there for each other, where we help each other, where to empower each other and build a unit... a real lesbian community with Body, Soul and the Heart in the right place!

To break-even we need YOUR HELP. We appreciate your generous gesture wholeheartedly!
Membership UpgradeYes, I would like to upgrade my Membership.