Thursday, Oct 17 19 12:35



12 Gurus available
0 Gurus online
Home
» Error in your Buddy BUBBLE! Updates & Activities
Error in your Buddy BUBBLE! Updates & Activities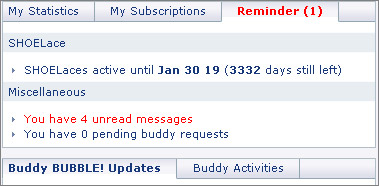 Many of you have probably wondered over the past couple of weeks, why their buddies were so inactive on SHOE.
MySHOE
>
Overview
.
Good news though! We have finally managed to solve this problem :-)
In addition to this, we have added a new tab called:
Reminder
. You will find the following information there:
When your SHOELaces will run out


How many unread messages you have in your message center


How many pending Buddy Requests you have
If you have any unread messages in your Message Center and/or have any pending Buddy requests which you have so far not approved/disapproved, the tab will appear in red.
For your information: The Photo Gallery is still not working properly. We are working on this and hope to give it the green light asap. We thank you for your patience :-)