Thursday, Oct 24 19 03:34



12 Gurus available
0 Gurus online
Home
» IMPORTANT CHANGES: Personal Settings and Message Center
IMPORTANT CHANGES: Personal Settings and Message Center

We have made some great changes to your personal settings aswell as the Message Center. Keep on reading. It'll be well worth it!
Personal Settings / Notifications
Who would like to get notified in which way when new photos, new blogs or new BUBBLES have been posted. We believe this is a very individual thing and therefore we are now offering you lots more possibilities to create SHOE more personal. If you go to your personal settings....
MySHOE - Manage Profile - Settings - Notifications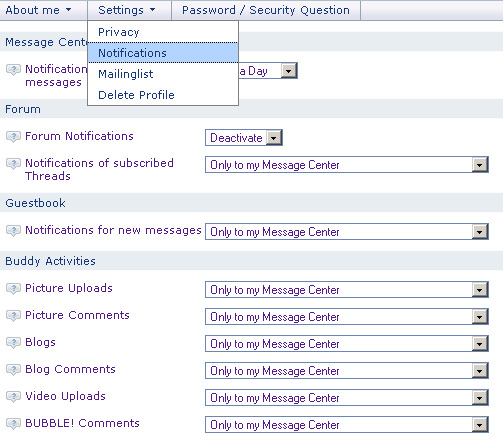 you can now select how and how often you would like to receive your notifications. Would you like to receive an Email? Or do you prefer to get a notification in your message center? How often would you like to be informed? Once a day? Once a week? All this and more can now be individually changed.
By default everyone has the following settings:
All notifications will be sent to the message center only. Once a day, you will receive a notification letting you now what is waiting in your message center.
This way we are ending the masses of mails everyone has been getting
Message Center Update
We've also made a change to the message center. Up until now, whenever you had a unread message in your message center, the envelope in the blue taskbar below just went crazy as long as you had the message marked as unread. This has now changed.
As of now, the envelope will only be blinking if there is a brandnew message in your message center. As soon as you go to your message center, it will stop blinking. All
unread
messages are now shown to you in the taskbar in the number of unread messages.

This means, you can leave messages
unread
in your message center, without the envelope going wild all the time.
We hope you like the updates. We have made them according to your feedbacks and constructive critisicm. See.. it's worth it letting us know what you would like to see on SHOE or want changed ;-)